The Mining And Technical Expo took place in Rustenburg at Mooinoi, May 2018. The expo created the ideal product installation and networking opportunities for technical experts, engaging with potential customers and industry partners. The exhibition focusses on exhibitors that are able to provide services to the mines and for them to display their services and products. This exhibition has been in existence since 1993. Helping and assisting many local SMMEs in the mining industry.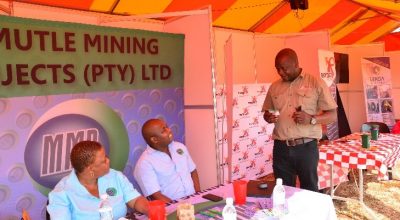 Mmutle Mining Projects provides the following services: Material handling services, which consists of efficient earth moving services on all commodities. Crushing and Screening services, which consists of re-sizing and separation of various materials as per required final specification from clients. Mining services, which consists of drill and blast services in open cast operations as well as rehabilitation of mined out open cast pits. Lastly, they provide plant hire services. This is equipment hire for mining and construction services.
At the exhibition, there were 230 registered visitors and 50 exhibitors. Among the companies that exhibited are: Western Chrome Mine, Eland Platinum Mine, Lonmin Platinum Mine, Hernic Ferrochrome, Samancor TC Smelter and Tharisa Mine.
Our company was sponsored by; Royal Bafokeng Enterprise Development, Royal Bafokeng Holdings and SEDA.